Playa Vista Events
Dessert Social with Live Soloist Performance!
---
If you love music and dessert as much as we do then come join us at Concert Park on Saturday, October 6th!  There will be games and activities for kids, ice cream sundaes, kites, and much more! 
Pre-register down below for a free ice cream sundae!  We hope to see you and your family there!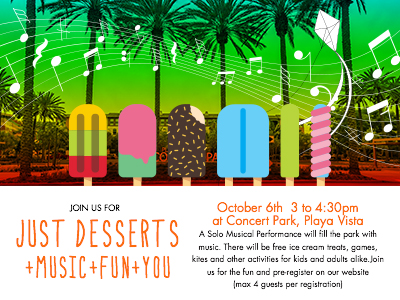 Day & Time: Saturday, October 6th from 3 to 4:30 pm
Soloist: Jonathan Blake Salazar – http://www.jonathanblakesalazar.com/